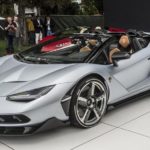 Lamborghini recently began shipping out the new Centenarios to those lucky enough to get their hands on one. With only 40 built, 20 of them are coupes and the remaining 20 are roadsters. The coupes finished being delivered, so now the first Lamborghini Centenario Roadster built was recently shipped to California.
The Centenario is an extremely precious piece of Lamborghini and automotive history. It was built to commemorate the 100th birthday of Mr. Lamborghini who began the famous brand.
Lamborghini says, "It's a homage to this visionary man and to the future he believed so much in." We believe this outstanding car is a great way to honor his legacy.
What Drives The Lamborghini Centenario Roadster?
Under the (rear) hood is a beautiful, naturally-aspirated V12 capable of making 759 horsepower and 507 lb-ft of torque. It has a 0-62 mph time of 2.9 seconds and a max speed of over 217. The automatic transmission also has a gearbox [...]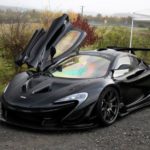 A couple months ago, Lamborghini set the Nurburgring lap record in a production car with a time of 6:52, beating the Porsche 918 Spyder. In previous weeks, McLaren has already beaten their record. In fact, the McLaren P1 LM completely shattered their record with a time of 6:43.2.
Yeah, you read that right. McLaren beat Lamborghini's record by about 9 seconds.
The McLaren P1 LM is a track car modified to be street legal by the company Lanzante. The car was originally a P1 GTR, which is designed for the track and was not legally allowed on the street. Lanzante then took that car and modified it to become street car.
McLaren never officially timed the P1 GTR around the 'Ring, and since Lanzante isn't officially backed by McLaren, they took their modified LM and took it for a drive.
What's Been Done to the McLaren P1 LM?
The first major thing done to the P1 [...]