First Lamborghini Centenario Roadster Ever Built Delivered In California
Lamborghini recently began shipping out the new Centenarios to those lucky enough to get their hands on one. With only 40 built, 20 of them are coupes and the remaining 20 are roadsters. The coupes finished being delivered, so now the first Lamborghini Centenario Roadster built was recently shipped to California.
The Centenario is an extremely precious piece of Lamborghini and automotive history. It was built to commemorate the 100th birthday of Mr. Lamborghini who began the famous brand.
Lamborghini says, "It's a homage to this visionary man and to the future he believed so much in." We believe this outstanding car is a great way to honor his legacy.
What Drives The Lamborghini Centenario Roadster?
Under the (rear) hood is a beautiful, naturally-aspirated V12 capable of making 759 horsepower and 507 lb-ft of torque. It has a 0-62 mph time of 2.9 seconds and a max speed of over 217. The automatic transmission also has a gearbox fitted with 7 gears that shifts at lightning speeds. Keep in mind the 0-62 time is 2.8 seconds in the coupe version.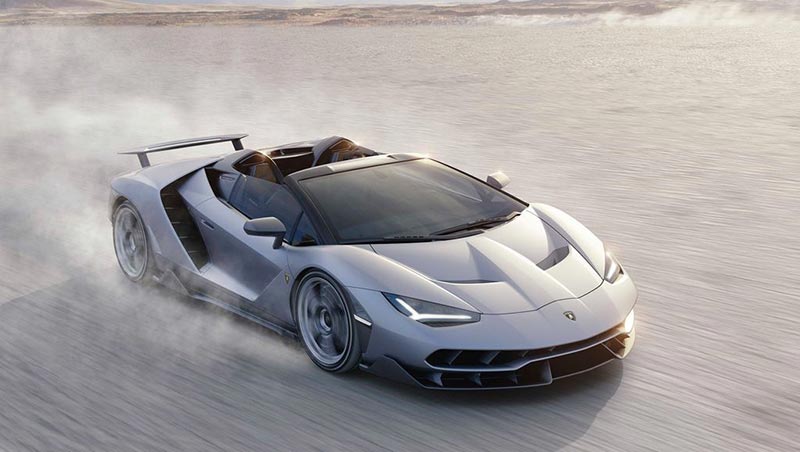 To help achieve the mind-boggling 0-62 time and max speed, the Lamborghini Centenario Roadster comes with permanent 4 wheel drive. It also has the new rear wheel steering, like the new Huracan.
The Lamborghini Centenario Roadster also has an impressive 62-0 stopping distance of 98 feet. This is thanks to the carbon-ceramic brakes with fixed calipers in aluminum with 6 pistons in the front and 4 pistons in the rear.
Its chassis is made from carbon fiber, along with the body of the car. It has a rear electronically operated spoiler with active aero and a paneled underbody.
The car isn't the most economical though. It only gets about 11 mpg in the city and 18 on the highway (about 14 combined). Though we're going to guess if you had the 2 million euros ($2.2 million) to fork out for the roadster that you're not too concerned about the fuel economy.
We love this new car and believe it's another great one-off for collectors and enthusiasts to want. It's coupled with amazing technology and the performance to back it up. Mr. Lamborghini would be proud of how the company has come and with what they've made to honor his memory.