McLaren P1 LM Destroys the Lamborghini Huracan Performante's Nurburgring Record
A couple months ago, Lamborghini set the Nurburgring lap record in a production car with a time of 6:52, beating the Porsche 918 Spyder. In previous weeks, McLaren has already beaten their record. In fact, the McLaren P1 LM completely shattered their record with a time of 6:43.2.
Yeah, you read that right. McLaren beat Lamborghini's record by about 9 seconds.
The McLaren P1 LM is a track car modified to be street legal by the company Lanzante. The car was originally a P1 GTR, which is designed for the track and was not legally allowed on the street. Lanzante then took that car and modified it to become street car.
McLaren never officially timed the P1 GTR around the 'Ring, and since Lanzante isn't officially backed by McLaren, they took their modified LM and took it for a drive.
What's Been Done to the McLaren P1 LM?
The first major thing done to the P1 LM is the engine modification. That infamous 3.8 liter twin-turbocharged V8 has been brought up to a 4.0 liter. This aids in taking some of the weight off of the hybrid drivetrain, allowing the engine to handle more of the power and torque.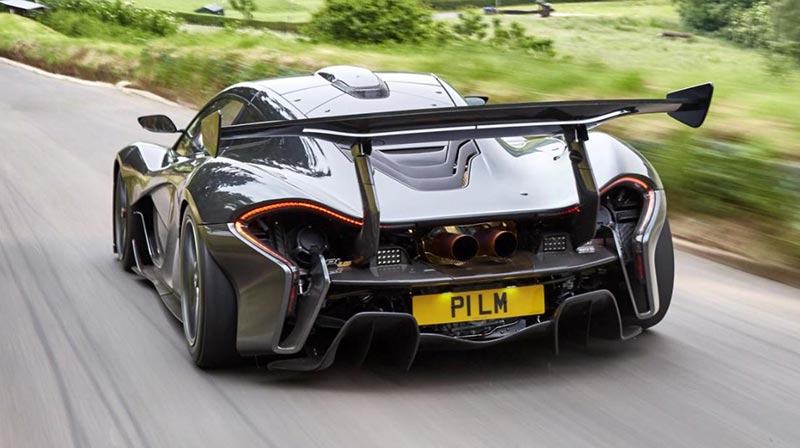 Since a considerable amount of strain is taken off of the hybrid drivetrain, the battery lasts much longer. In fact, after pushing the car to its max around the Nurburgring, the battery still had over 75% charge. This is unheard of in the hypercar world!
That 4.0 liter V8 also makes 986 horsepower, so it's not exactly a surprise that it's quick. The car is also sporting custom (but street legal) Pirelli Trofeo tires.
The McLaren P1 LM also sports a giant wing, as seen in the picture above. You'd be forgiven if you thought that it was a stationary wing, as it does appear to be one. But the wing is actually equipped with active aero, meaning it will automatically adjust the positioning of the top of the wing as different speeds to improve downforce.
Despite how ludicrous this car sounds, Lanzante insists that the McLaren P1 LM is street legal. In fact, they say that the car was driven directly home after the Nurburgring lap time to its home in the UK.
Want to get your hands on one of these? Well, that's too bad. There were only 5 of them made and they're all sold. Plus, according to the YouTuber Mr Jww, none of the new owners are planning on selling their cars any time soon. As much of a shame as this is, we can't really blame them.