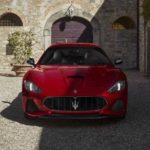 Maserati reportedly is going to have a small, 2 door vehicle to replace the GranTurismo. Unfortunately, that's been pushed back to the next decade some time. Thankfully, not all has been lost.
The Maserati GranTurismo is an absolutely beautiful car. To make up for the pushing back of a new model, they've added a few facelift touch ups for a refreshed look. The whole car looks (and always has looked) absolutely stunning.
What's Been done to the 2018 Maserati GranTurismo?
You may have to look closely to see some of the changes that Maserati has made. For instance, they redesigned the grille which was inspired by a Maserati concept called the Alfieri. Road and Track also reports that it's going to get a redesigned rear bumper. Unfortunately, we can't see it yet as Maserati has only released pictures of the front of the GranTurismo.
The sport version of the Maserati GranTurismo will feature a new [...]