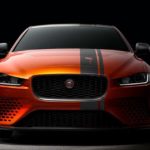 The Jaguar F-Type is already an amazing, beautiful, and powerful car. Recently, Jaguar has announced a new model that'll outperform the F-Type – and it's a Sedan. The newly announced model is being called the Jaguar XE SV Project 8.
It's going to have a MSRP of about $192,000. This makes it more expensive than a McLaren 570s and a Porsche 911. That's right – a 4 door Jaguar is priced more expensive than some supercars. Keep in mind that buyers can choose between a two-seater, track-oriented version or a road-based four-seater.
They're also calling it the, "Most extreme performance Jaguar vehicle ever." This is quite a profound statement coming from the marketing team over in the UK. So, how is Jaguar expecting to get away with charging such a large sum of money?
The Jaguar XE SV Project 8 is a Beast
Let's be straight here – don't let the fact that the XE SV Project 8 is a [...]