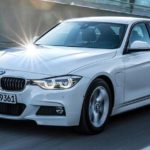 BMW is a German brand known for mixing elegance and performance – similar to Mercedes. Now, they're starting to delve into the electric car category. Since the release of the all electric i3, BMW has said it's planning on making many more electric vehicles.
Earlier in the year, BMW confirmed a couple new electric vehicles in particular being released in the future. They unveiled plans to make a fully electric MINI for starters. They'll also make a fully electric X3 in 2020. Finally, the upcoming "fully electric BMW iNEXT" should come around 2021.
This left a couple year gap between the release of the i3 and the next electric car. This made us wonder why they'd have such a gap. Thankfully, our questions were answered.
An All Electric BMW 3 Series
That's right – an all electric 3 series Beamer (not it's brother the 330e hybrid). To make matters more interesting, the all electric 3 series would be a main rival for [...]