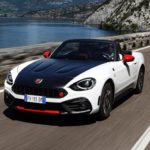 Let's be honest – getting behind the wheel of a car that puts a smile on your face is what we all want. It doesn't necessarily have to make 500+ horsepower, either.
Cars that will continually put a smile on your face every time you get in the driver's seat is becoming more and more rare. Granted, there are tons of exotic supercars that do just that – but what about on a budget?
So, with that said, we've compiled a list of what we believe to be some of the most fun cars to drive out there today. This isn't going to be your list filled with all Ferrari's, either. All of the cars you're going to read about will cost under $40,000 new.
Ford Mustang GT
You can't be surprised to see the Mustang on this list. There's a reason the Mustang has been so incredibly successful since its debut in 1964, and hasn't [...]