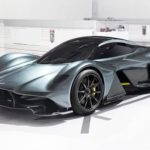 Aston Martin began talking about the 2019 Valkyrie over a year ago. First code named the AM-RB 001, it's now being called the Aston Martin Valkyrie. They first came out with the Vulcan, the new DB11, and now this will be here some time in 2019? This company is working wonders.
When Aston first announced the Valkyrie, they said their goal was to have about 1 horsepower per kilogram (1 kilogram is about 2.2 pounds). It seems that the Aston Martin team may have exceeded that goal and left themselves some comfortable wiggle room.
What's the Aston Martin Valkyrie Made Of?
Dubbed an "F1 car for the road" by Jalopnik, the Valkyrie is going to be properly insane if the latest reports are correct. We know it's going to be a hybrid making around 1130 horsepower. Around 1000 of that is going to come from 6.5-liter naturally aspirated V12. The remaining 130ish horses are reportedly going [...]