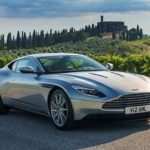 The new Aston Martin DB11 is an absolute beast. In fact, Aston Martin managed to couple extreme luxury with amazing performance in a way that'll make you think twice before buying any other GT. From the sound, the looks, the engine, and just about every aspect of the car, it's quite possibly become the ultimate grand tourer.
There's Something Special Under the Hood
The Aston Martin DB11 has an all new twin-turbocharged V12 under the hood. Now I know you're asking yourself why they didn't put a naturally aspirated engine under the hood. We thought that same thing when we took our first look at the car. Amazingly, Aston Martin managed to keep the V12 growl from the engine despite the turbos. We feel that this makes up for getting rid of natural aspiration.
This English V12 makes 600 horsepower and 516 lb-ft of torque and is fitted with a fantastic 8-speed automatic transmission. The [...]